Where Myaza Virtual Dollar Cards Can Take You: A Platform Compatibility Guide
13th September, 2023
10 Minutes
card • virtual card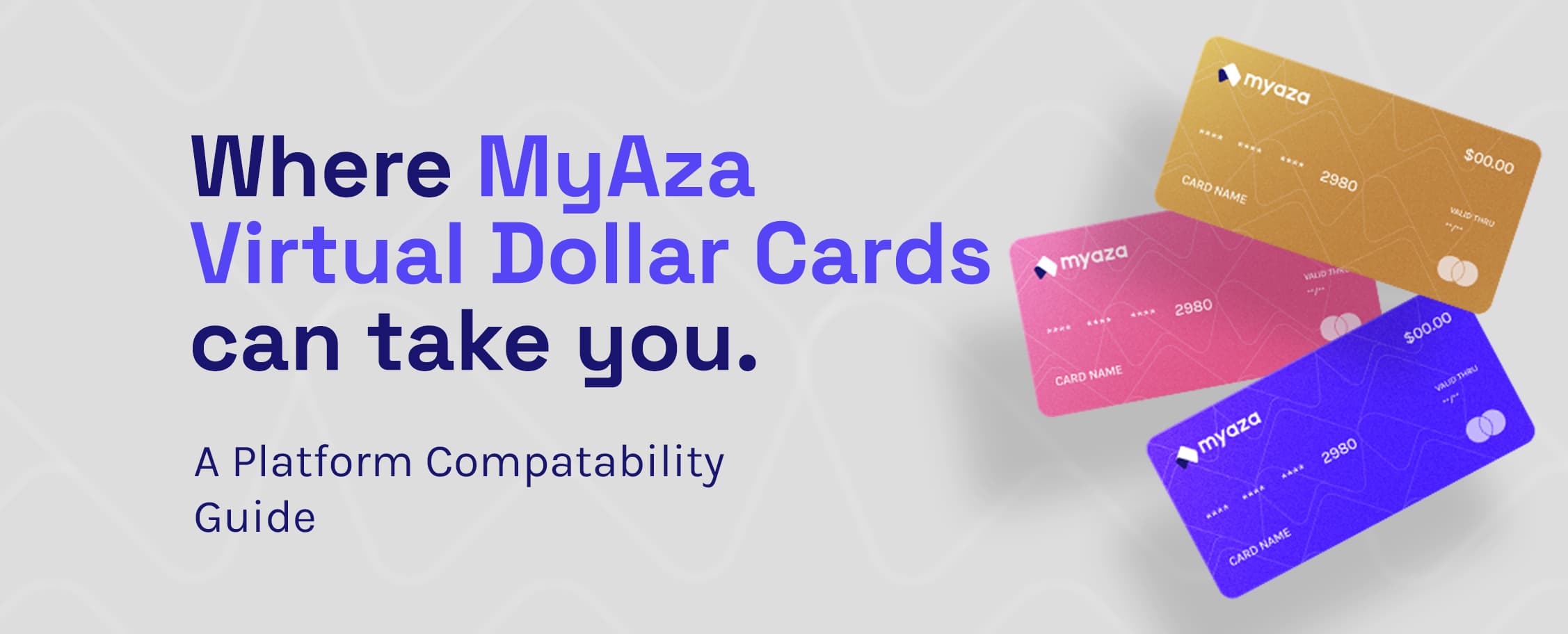 If you have arrived here, it implies two potential scenarios. Firstly, if you have already registered on our platform and have created a virtual dollar card, but seek to reaffirm the compatibility of this card with various platforms, then you have landed in the right place. Conversely, if the former scenario does not apply to you and you are a newcomer to our platform, we extend a warm welcome to you.
Myaza, a prominent provider of virtual cards, facilitates a seamless process for the creation and funding of virtual cards. In this informative blog post, we aim to elucidate the array of platforms that our Myaza virtual dollar card is compatible with.
If you have yet to initiate the creation of a virtual dollar card and require guidance on the entire process, please consult the following resource: How to create and fund virtual cards
The platforms compatible with our virtual dollar card have been categorised for clarity. It is worth noting that certain companies may belong to multiple categories based on their range of services and offerings. Below, you will find the categories along with the specific platforms falling under each:
Technology and Software: 1Password, Activision, Adobe, Ahrefs, Airalo, AWeber, Avast, AVG, Amazon Web Services, Apple, Argos AI, ASUS, Atlassian, Audiomack, Autodesk, AviaGames, Axon.

E-commerce and Online Services: 2Checkout, AliExpress, AliPay, Amazon, Amazon Kids+, Amazon Kindle, Amazon Prime, Airbnb, ASOS, Banggood, BeenVerified, Bigo Live, Boohoo, Borderfree, Box, Cappex, Canva, ClickBank, Craigslist, Creative Market, Dropbox, eBay, Etsy, Facebook, Farfetch, FashionNova, Fiverr, Freelancer, Freshworks, GoDaddy, Google, H&M Group, Hulu, iHerb, Jumia, Lazada, LinkedIn, MercadoLibre, Microsoft Store, MyPoints, Netflix, Newegg, Notion, One Ecom, OnlyFans, PayPal, PostScan Mail, Shopify, Spotify, Squarespace, Supreme Ecom, TikTok, Uber, Uber Eats, Wix, Zalando, Zara, MyPerfectResume.

Education and Online Learning: A Cloud Guru, Coursera, edX, Khan Academy, Udacity, Magoosh, Udemy, AltSchool Africa.

Web Hosting and Cloud Services: Bluehost, DigitalOcean, HostGator, Hostinger, HostMonster, Namecheap, OVHcloud, SiteGround.

Financial Services: American CU Credit Union, CIBC, CFA Institute, Chegg, E*TRADE Financial, Firstbase, Interactive Brokers, PayPal, QuickBooks, Stripe.

Health and Wellness: Fitbit, Goli Nutrition, Huda Beauty, Noom, Thinx.

Gaming and Entertainment: Activision, GameLoft, Roblox, Steam, Zynga.

Social Media and Communication: Discord, Facebook, LinkedIn, Skype, Snapchat, WhatsApp, Twitter, Instagram, Pinterest.

Travel and Transportation: Airbnb, American Airlines, British Airways, Expedia, Qatar Airways, Turkish Airlines, Vueling Airlines, Air France.

Retail and Fashion: ZARA, Boohoo, Farfetch, Fashion Nova, H&M Group, Nike, Supreme Ecom, Zalando.

Web Development and Design: Adobe, Autodesk, Cloudflare, Wix, WordPress.

Telecommunications: AT&T, T-Mobile, Verizon.
To eliminate any ambiguity, not every platform has been included under each designated category. If, after perusing these categories, you do not locate your desired platform, you may also conduct a search among the lists of platforms compatible with the Myaza virtual dollar card via List of platforms our cards can be used on.