How to Swap Currencies on Myaza: A Convenient Guide
2nd July, 2023
4 Minutes
Swap • Wallets • Transactions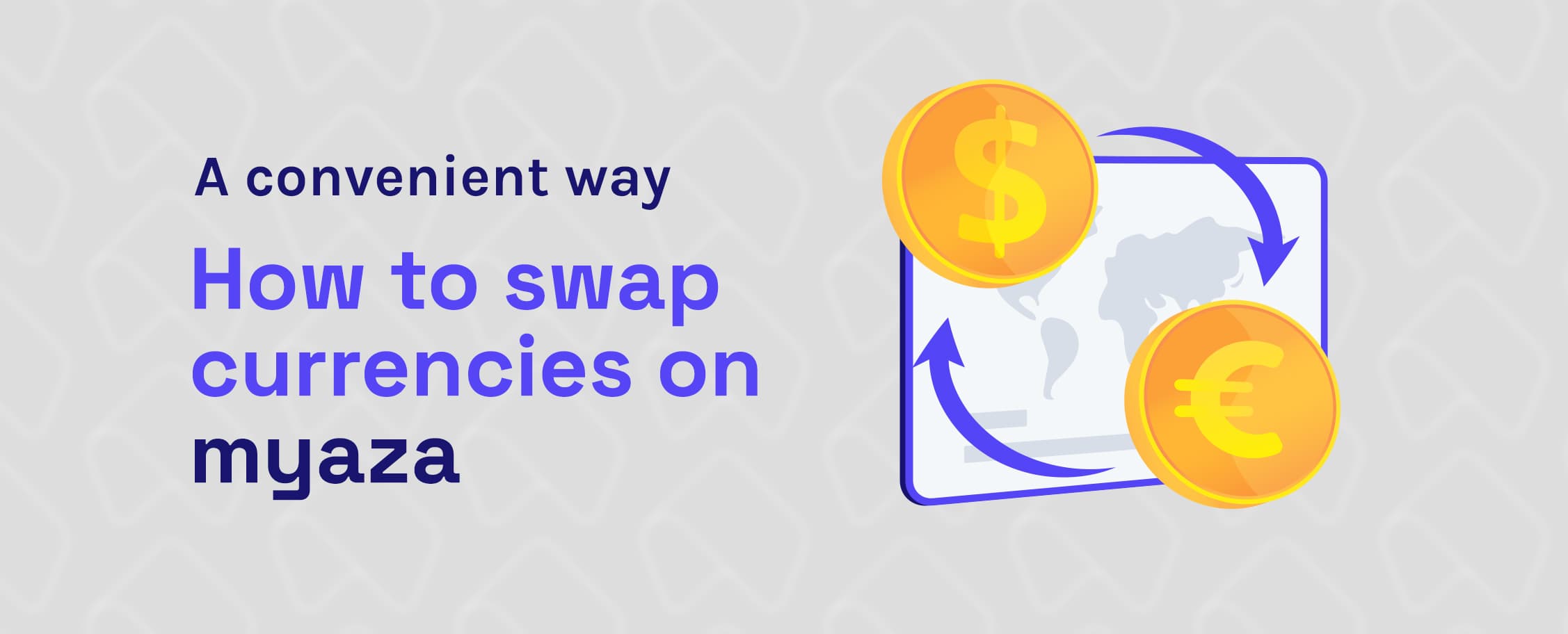 Myaza, a leading platform for digital payments, offers users the convenience of swapping currencies effortlessly. Whether you need to convert USD, EUR, or GBP back to your local currency, Myaza provides a seamless process for currency swaps. In this blog post, we will guide you through the steps to swap currencies on Myaza, enabling you to manage different currencies with ease and convenience.
Sign Up and Complete KYC Verification: To begin swapping currencies on Myaza, sign up for an account and complete the Know Your Customer (KYC) verification process. KYC verification ensures the security and legitimacy of your account, safeguarding you and the Myaza community from fraudulent activities.

Add Funds to Your Wallet: To initiate a currency swap, you need to have funds in your Myaza wallet. Deposit funds into your account by linking your bank account or other accepted payment methods. Once your wallet is funded, you can proceed to the next step.

Navigate to the Currency Swap Feature: Log in to your Myaza account and navigate to the currency swap feature. This feature is typically located within the account dashboard or the wallet section. Look for the option to swap currencies, which allows you to convert USD, EUR, or GBP back to your desired local currency.

Select Currency Pair and Amount: Choose the currency pair you wish to swap. For example, if you have USD in your wallet and want to convert it to your local currency, select the appropriate currency pair (USD to local currency). Specify the amount you want to swap and verify the exchange rate provided by Myaza.

Confirm the Swap: Carefully review the details of the currency swap, including the amount, exchange rate, and any applicable fees. Once you are satisfied with the information, confirm the swap. Myaza will automatically initiate the currency conversion process.

Receive the Converted Amount: After confirming the currency swap, Myaza will process the conversion and deposit the converted amount into your wallet in the desired local currency. You can now use these funds for online transactions or withdraw them to your linked bank account, depending on your preferences.
Conclusion:
With Myaza's currency swap feature, converting USD, EUR, or GBP back to your local currency becomes a hassle-free process. By following the steps outlined in this guide, you can easily manage different currencies within your Myaza account, enabling seamless transitions between international and local transactions. Embrace the convenience of currency swapping on Myaza and enjoy the flexibility it offers in managing your digital finances.